Hey islanders,
just a little teaser for the first event since a long time, hosted by the soc Helping On Next Island : Mad Huntz.
I post this, because you could get used to the rules, long before the events, as the rules are a bit long and special.
No date or time announced yet ! But it will come in the near future.
The idea is helping me hunt these beasts, because it's too hard all alone
The pic shows a Desert Crawler, but really, we could maybe hunt another mob in the end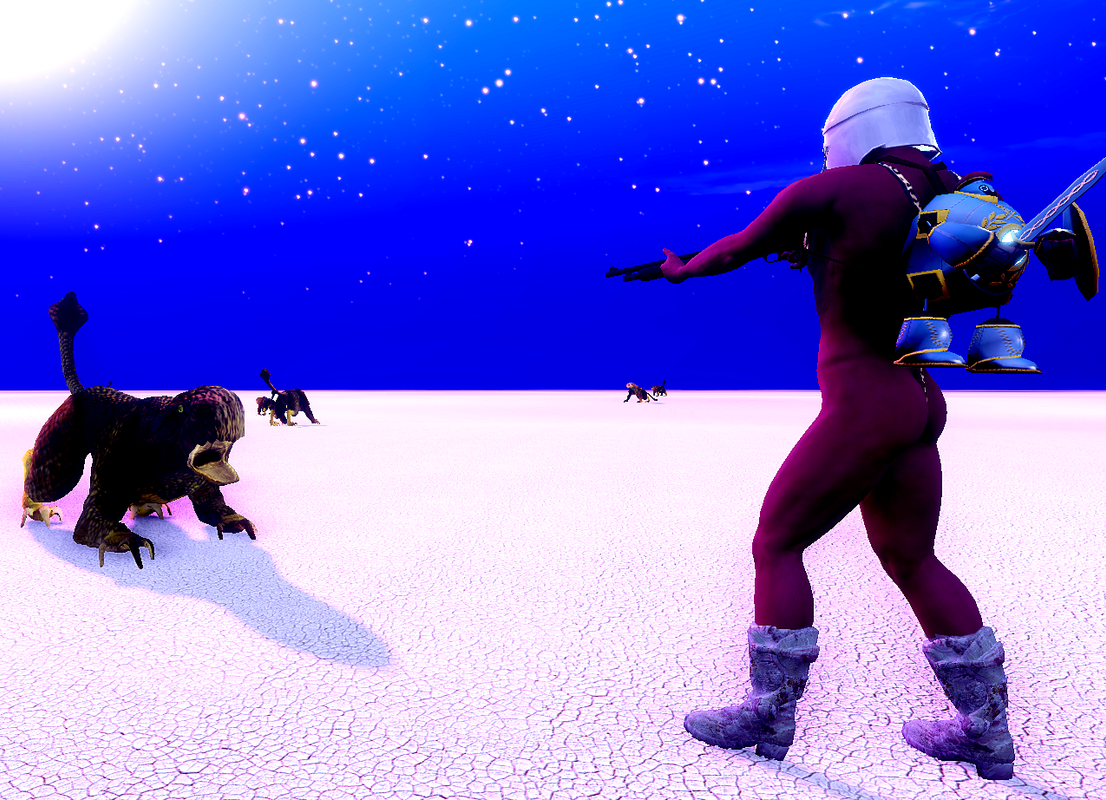 So... why not swarming them ?
1) Basic rules and registration
This event will have up to 20 registrants. Guns and ammo will be provided.
No armor please ! The idea is doing this noob-style
Gun should be Sahra-MK2 with 10PED ammo for each people.
Healing will be provided too. Also, you should receive a H-DNA, permitting you to revive on the spot, once.
In case there are more than 20 registrants, a random draw will occur on a website with full transparency.
EDIT: change of rule. The random draw will only be for the 5 lasts seats ! 15 first seats booked will be secured by their registrants !
Even if this is a noob-friendly event, you can register at any level. Maybe it won't be easy to have 20 people at the same time, so.. even ubers are welcome ! As long as they do this accordingly to the rules.
2) The hunt
Complete rules will be given again.
Then, once you're equipped, a team is formed, of 12 people, with "looter takes all" option.
The other people are not in another team. They have to stay alone. This is very important.
Then, we all get together and hunt the same mobs !
You're being healed during the hunt.
During the hunt, you don't get any loot. I take it all. It's important for people on team not to use the mouse for shooting !
This way, it prevents accidentally picking up the loot.
If the most experienced players could join the team, that would be perfect.
3) The loot
At the end of the hunt, you hand back the gun.
You'll be rewarded with a % of the total loot. Usually 50%.
It means that it we looted a total of 200PED, 100PED is given back. 5PED per hunter.
If we had luck and got like 500PED, it's 12,50 per hunter.
Of course, if you hoarded ammo instead of using it, you'll get only a fraction of that.
Consider getting a part of the loot like cherry on the cake please.
Keeping a % of the loot is what makes this sustainable.
4) Behaving
We could be like two dozen of people in the same area. It's very important that people follow the rules and behave to some extent, even if we're here to have fun.
Any violation of the rules or very annoying behavior could lead to a permanent ban from these events.
These reasons are, not limited to : Keeping the gun, spamming, afking, looting the mobs on purpose, making a tantrum for any reason, ...
Looting the mob once or twice by error is OK as long as you immediately give me back the loot.
5) Possible Partnership
Getting your part of the loot could happen in two way :
- I give back to you the amount of shrapnel/PED calculated for you at the end. (I can't make fractions of all the looted items... I tried once..)
It's a bit long. calculations of % of loot + 20 trades is not easy to handle right after the event.
- other possibility is a partner/sponsor manage this part. I'd like that to happen. You then could have to register on another website.
This part is not decided at all !
6) More info to come !
Stay tuned, everything is not decided yet. It would help me if you could reply to this post and tell if you're interested or not.
Also, sharing thoughts is more than welcomed
7) Future and dreams
If this goes well, we'll up these numbers and hunt harder and harder mobs, with more and more hunters !
8) Understanding the rules
I can't make a "Too Long/Didn't read" version of this, sorry !
If you want to participate, it's really important that you read and understand carefully how this works. It would ensure that things run smoothly during the event. I won't have time to answer questions during the hunt.
See you soon for more info !